Go Team Shaklee! Shaklee salutes U.S. athletes for their incredible results in Sochi! Congratulations to each of our Pure Performance athletes. We are incredibly proud to be associated with this fine group of elite performers. At Shaklee we don't just stand behind our products – we stand behind the people who use them. For over 30 years we have sponsored some of the most elite athletes in the world.
Check out what some of our athletes had to say about setting goals, perseverance, putting the right things in our bodies and working as a team, all things that we in Shaklee can relate to:
Brianne McLaughlin, Women's Ice Hockey, Silver Medal: I loved bonding with my teammates, and we've grown together. We made it important to be close as teammates; win lose or draw we were there supporting each other. That atmosphere is so cool to be a part of. They just do the right thing to make their contribution. Whether it was nutrition, training, etc., we are ALL in.
Jordan Malone, Short Track Speed Skating, Silver Medal in 5000m Relay: We have to treat our bodies like a machine. If it doesn't get what it needs, it won't work. When you challenge your body it can start to break down, and recovery breaks down, and these are factors you can't control and putting the right nutrition your body can help. Shaklee products were an instrumental part of keeping our bodies in tune.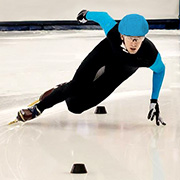 Chris Creveling, Short Track Speed Skating, Silver Medal in 5000m Relay: It was a big dream come true just making the team. A stressful, long-fought process just training for trials, making the team was almost harder than the games. Some have a lot of talent at first, but others really battle for everything. It was four years in the making. It wasn't automatic. I was one of the top US Skaters in inline skating, but it was really tough to get comfortable on ice. It's been really taxing; the way that I raced changed, my physical ability changed, what to expect, how to handle situations. Now I'm comfortable…finally.
Brianna Decker, Women's ice Hockey, Silver Medal: "Team first" is the mentality. We stressed it constantly in every aspect of our preparation – put everyone else before yourself. We did things like team dinners and relaxing together. We had two hour practices every day. Sometimes after the practices we just wanted to chill together; we tried to seek a balance between hard work and team chemistry. And when you build team chemistry, it's awesome. We left feeling that we had 21 close friends for a lifetime.
Want more? There are great public articles on the Health Wise blog you can share.
Shaklee Pure Performance Team Earns 10 Medals
Visit the Health Wise blog to read more about the Shaklee Pure Performance Team in Sochi 2014 and about Tracy Barnes receives United Nations UNESCO Fair Play Award – an article on Tracy Barnes' incredibly magnanimous act of giving up her spot on the U.S. team for her twin sister, Lanny.
There will be more stories from our Pure Performance Team members in upcoming reports on the blog, so check the Shaklee Health Wise blog frequently and on the Shaklee Corporation Facebook page.
Here's where you can find Pure Performance athlete highlights and information to share:
Shaklee Pure Performance athletes are either Distributors or dedicated users who have received compensation for their partnership and/or complimentary Shaklee products.